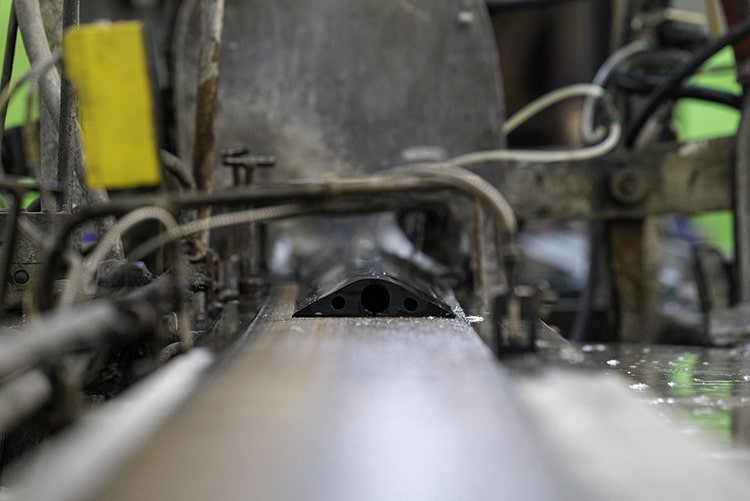 Extrusion is an amazing technology. It is a process in which a material is pushed through a shaft with a die at the end that has a particular shape to form the desired product.
Macaroni, cheese puffs, vinyl siding, dog food, and paper clips are all extruded products.
Rubber extrusion forces an uncured rubber mixture through a precision die that is cut to the shape needed to create the profile of the desired rubber part. Due to the unique characteristics and rheology of different rubber mixtures, the creation of the die is of utmost importance.
Custom rubber extruded products include wiper blades, drain tubes, window seals, and window u-channels. They are everywhere, and although they might be "invisible" to the average person, they are essential to modern life.
With over 70 years of custom rubber extrusion experience, Sperry & Rice has the equipment and expertise to deliver rubber extrusions from concept to completion under the toughest schedules and most stringent specifications.
From simple sponge seals to extremely demanding rubber sealing projects, we are your custom rubber extrusion design and engineering resource. We mix the rubber, we make the tooling, and then we extrude it, form it, cure it, and ship it to you for your project.
Custom rubber extrusion projects, created in close cooperation with your team, are the foundation of our business. We produce your products to your exact specifications, each and every time. That is easier said than done – but for Sperry & Rice, it is how we do business.