How to Get a Quote from Sperry & Rice
Posted By:
Sperry & Rice
Monday April 25, 2022
So, you have a custom rubber part you need designed and manufactured and you're looking to get an estimate of how much it's going to cost to produce. Let's run through our quoting process and what we need in order to provide you with the most accurate quote possible.
At Sperry & Rice, we don't stock rubber parts. Instead, each part is custom-designed to fit our customer's requirements and specifications
This is a huge value-add but it means that regardless of whether the project you are inquiring about is new or an update to an old or existing project, a quote is required.
Step 1: Project Overview
We recommend submitting your quote inquiry ASAP, including packaging requirements, if needed. We are currently turning quotes around in anywhere from 1-3 days to several weeks depending on the complexity of the project. But rest assured, our engineering team will keep you up to date on the status of your inquiry, so you know where it stands at all times.
Shape
Material
Application
Physical
Properties
Estimated Annual Usage (EAU)
Pre-production paperwork
Shape
It's as simple as it sounds. This is sharing the general shape of the part in question. The following descriptors are examples of terminology that could be used: hose, tube, profile, etc.
Material
The material call-out should be specific and more than just "rubber". As you might have guessed, rubber comes in a variety of types (Natural Rubber, SBR, EPDM, and Silicone) and with hardness' ranging from hard, medium, and soft, to sponge and foam.
A material request could state something like, "EPDM Rubber 60 +/- 5 Shore A". This tells our team that the material type is specified as "EPDM Rubber" and therefore cannot be mistaken for an EPDM sponge or other material. The hardness is also specified to be within the range of 55 to 65 by the measurement scale of Shore A.
Application
Where will the part be used and how? We understand the need for discretion when it comes to highly competitive industries and ask that you be as detailed as you can be.
Physical Properties
This is where we like to gain some specifics about the project including items like:
Durometer
Oil Resistance
Tensile Strength
Color
Paint Stripes
Tape Applied
Cut Length
Special Finishing Requirements
Estimated Annual Usage (EAU)
This information allows us to be able to quote a tool size and design capable of meeting the projected production output.
Pre-production Paperwork
Every project has its own pre-production paperwork that must be submitted to our team. Examples of this paperwork can be FAI (first article inspection) and any of the PPAP (production part approval process) elements.
Step 2: Detailed Drawings
You've already submitted your initial request and our internal team s now kicked off an initial quote. In this phase, we ask for detailed drawings with all the parameters and dimensions for your project spelled out.
When possible, we ask that you provide both the 2D and 3D drawing and print files for the part in question. Be sure to include the color, material, tolerances, test standards, and any other important characteristics.
Step 3: Internal Project Review
The 2D and 3D drawings have been received and reviewed by our quoting team. It's in this phase of the process that our team will now determine:
The best rubber formulation for the application and the specifications provided
The preferred manufacturing process that will be used to make the part
The size, shape, make-up, and the number of tools required to manufacture the part at our facilities
Step 4: Customer Call and Quote Delivery
This is when we talk with the customer and discuss any potential trade-offs that may need to be made in the rubber formulations. Edits are made and then a final quote is delivered to the customer.
The final quote usually includes a few things:
1. The piece price
2. The costs for any required tooling
3. Lead time for samples, tooling, and normal production
Step 5: Product Sample
Once the initial per piece and tooling quote are approved, our team sets to work at making a sample of the part for review. Depending on the product approval process, sample parts could need to be made for customer review and approval prior to planning an initial production run. Usually, the customer specifies how many samples they need.
It's important to note that since each piece is made specifically for a singular customer, any special tooling that is required is also owned by the customer and will only be used for making that customer's parts.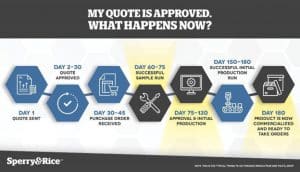 No Quote – Why?
Outside of the possibility of a broken drawing file or missing information, there are a few reasons we may decide to NOT quote on an opportunity.
The most common is that the material or process is not something we offer. Things like silicone and urethane are not currently on our qualified list of materials processed at Sperry & Rice.
Other reasons you could receive a "no quote":
Reinforced hoses or other profiles with substrates in the rubber
Parts that can only be made with a molding process rather than extrusion
Low quantity either initially or EAU
Have questions or ready to get your project quoted? Contact Us today!